South Dakota has a unique story when it comes to cannabis laws. It has been a leader, a laggard, and a reneger — and only time will tell how the state's current chapter concludes. For the time being, it's definitely...confusing.
Currently, federally-legal hemp-derived CBD with no more than 0.3% CBD is permitted in South Dakota, though its legality under state law is not clear. SD just passed a law in 2020 to establish a medical marijuana program. Recreational cannabis is illegal.
It's also worth noting that laws on tribal reservations may differ from state laws.
South Dakota CBD Laws At A Glance
Here are the main things to know related to CBD in South Dakota:
• Hemp CBD containing lessthan or equal to 0.3% THC is federally legal.
• Selling, buying, and possessingCBD in South Dakota is in a legal gray area — so do so with caution anddiscretion.
• You may find CBD at storesin-state, though it's unclear if this is technically legal. You can legally buyCBD products online.
• You'll probably need to beat least 21 to buy CBD.
• Smoking or inhaling CBD isexplicitly prohibited in SD.
• A medical marijuana programis being established. Epidiolex is legal for qualifying patients.
• Recreational cannabis useis unlawful.
• Illicit possession ofcannabis carries hefty penalties in South Dakota.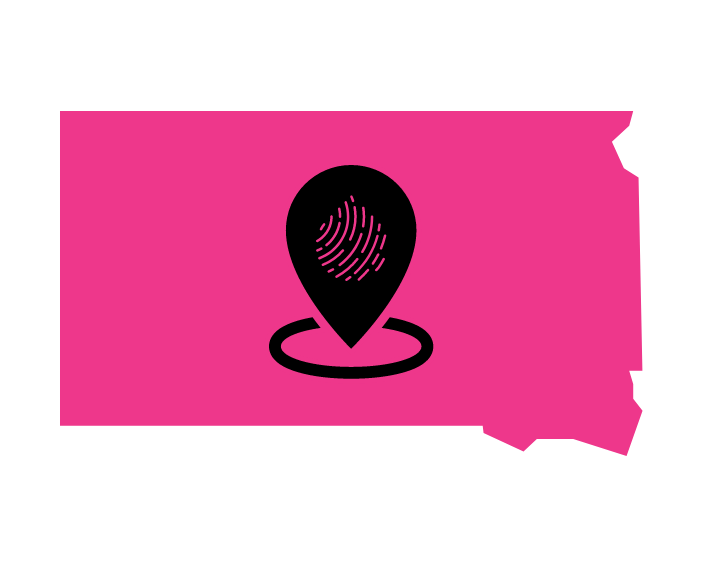 Is CBD Legal in South Dakota?
South Dakota's sometimes referred to as the Land of Infinite variety. Perhaps it's carried this spirit over to its cannabis laws. The state seems to go back and forth with its legislation and keep everyone guessing.
Let's take a look-see at South Dakota's CBD-related legislative merry-go-round:
The state had a burst of pioneering force in 1977 when it decriminalized cannabis. The short-lived law was quickly repealed, though. Switchback #1.
Status quo held for the next 30 years or so. Between 2006-2017, a few grassroots efforts to legalize medical marijuana failed. A 2015 attempt to again decriminalize cannabis was also unsuccessful.
In 2018, the Farm Bill federally legalized industrial hemp and its derivatives, so long as they contained 0.3% or less THC. South Dakota's laws clashed with federal guidelines.
In 2019, state legislators passed legislation (HB 1191) to legalize industrial hemp, but the bill was vetoed by the governor. Furthermore, the state attorney general stated that hemp and all types of CBD oil were illegal. Switchback #2.
The same year, SB 95 passed. This law reclassified CBD from being a Schedule I to a Schedule IV controlled substance. Rescheduling CBD essentially decriminalized it a bit. Possession severity was reduced, but possession remained a felony and living in a place where there are illegal controlled substances stayed a misdemeanor. (Somehow this sounds like progress, but doesn't necessarily feel like it...)
Finally in 2020, the state government enacted HB 1008. This law legalized growing, processing, and transporting industrial hemp with 0.0-0.3% THC. A license is required and the program should be in full swing for the 2021 growing season. Unfortunately, this legislation didn't specify if CBD products are covered — hence the enduring questions over their legality.
Measure 26 (legalizing medical marijuana) and Constitutional Amendment A (legalizing recreational marijuana) were approved by voters in the 2020 election. A February 2021 court ruling overturned the constitutional amendment, declaring it unconstitutional (Switchback #3). The governor issued a statement in February 2021 saying the rollout of the medical marijuana program would be delayed a year, to 2022 (Switchback #4). The South Dakota Cannabis program has officially been launched and the first cannabis establishment registration certificates have been issued, so get ready, SD!
How To Legally Purchase CBD Products In South Dakota
South Dakota is not exactly a CBD-friendly zone. (Sad face!) As such, your source for CBD products is most likely limited to the virtual marketplace. You still have a ton of shopping alternatives, but be sure to purchase from a reputable retailer. Also — given the squishy legal status of CBD oil in South Dakota, proceed with care.
Can You Buy CBD At Brick & Mortar Stores?
Because CBD isn't unambiguously legal in South Dakota, you may not find CBD items locally. There aren't any dispensaries (yet); your pharmacies, health food stores, etc. probably won't carry CBD-infused products. If you want to purchase CBD goodies, you'll need to go a different route.
When the medical marijuana program launches, qualifying patients will be able to purchase medical cannabis at licensed dispensaries.
Can You Buy CBD Online?
Even though CBD itself is questionably legal in some states, it's definitively legal to mail hemp-derived CBD oil with 0.0-0.3% THC to every state in the Union. This is because federal law deems compliant CBD as legal in all 50 states.
This may be kind of bizarre, but welcomed news for folks in South Dakota. You can't get CBD at a local store, but you've still got options. Thanks internet!
You can safely buy CBD products online from Pure Craft. In fact, here are some high-quality CBD products that're popular with South Dakotans near you:
South Dakota State CBD Laws: A Deeper Dive
Some say knowledge is power. If you'd like to be more CBD powerful, feel free to read up on the legal details of cannabis in your state.
South Dakota & CBD Legality — Bottom Line
Hemp CBD with 0.3% or less THC is federally legal and lawful to have mailed to you if you buy CBD products online. But, South Dakota laws are unclear as to the legal status of CBD products.
Current law clearly states that it's lawful to grow, process, and transport industrial hemp. It fails to mention the selling, buying, or possession of hemp derivatives, though. If you choose to purchase, have, or use CBD — do so with caution.
Medical cannabis was recently legalized and the program is expected to launch in 2022. Recreational marijuana is illegal.
Disclaimer
We're not legal professionals or otherwise qualified to offer legal advice. So, while we do our very best to be thorough, up-to-date, and 100% correct, the content above is for informational purposes only. Please also note that the laws surrounding CBD are subject to change. We recommend checking our source(s) to see if the information or legal status have been revised since our content was published.